June 29 to August 30, 2023
The "Multiple perspectives" exhibition is moving
The "Multiple perspectives" exhibition continues on the gates of Monaco's St-Martin gardens
Having been on show in the Conference Room of the Oceanographic Museum of Monaco since early spring, the "Multiple perspectives" exhibition will continue throughout the summer, from 29 June to 30 August 2023, on the railings of the St-Martin gardens, close to the Prince's Palace and the cathedral, with the collaboration of the Direction des Affaires Culturelles and the Direction de l'Aménagement Urbain de Monaco.
The "Multiple perspectives" exhibition looks at the journey of the Monaco Explorations' Indian Ocean 2022 expedition. Through the eyes and sensibilities of three artists – Elise Rigot, Chloé Thibault, Rémi Leroy, two photographers – Filip Kulisev, Nicolas Mathys, a journalist – Stéphane Dugast, a film-maker – Sylvain Peroumal and quotes from various participants, the story, drawing, watercolour, sound, video and photography on 25 panels illustrate this major expedition of the Explorations de Monaco. The "Multiple perspectives" exhibition was inaugurated on 21 March 2023 at Monaco's Oceanographic Museum, on the occasion of the Indian Ocean Expedition feedback day.
During the artists' plateau on the day of the event, the artists expressed their feelings and sensations about this dense and intense human adventure.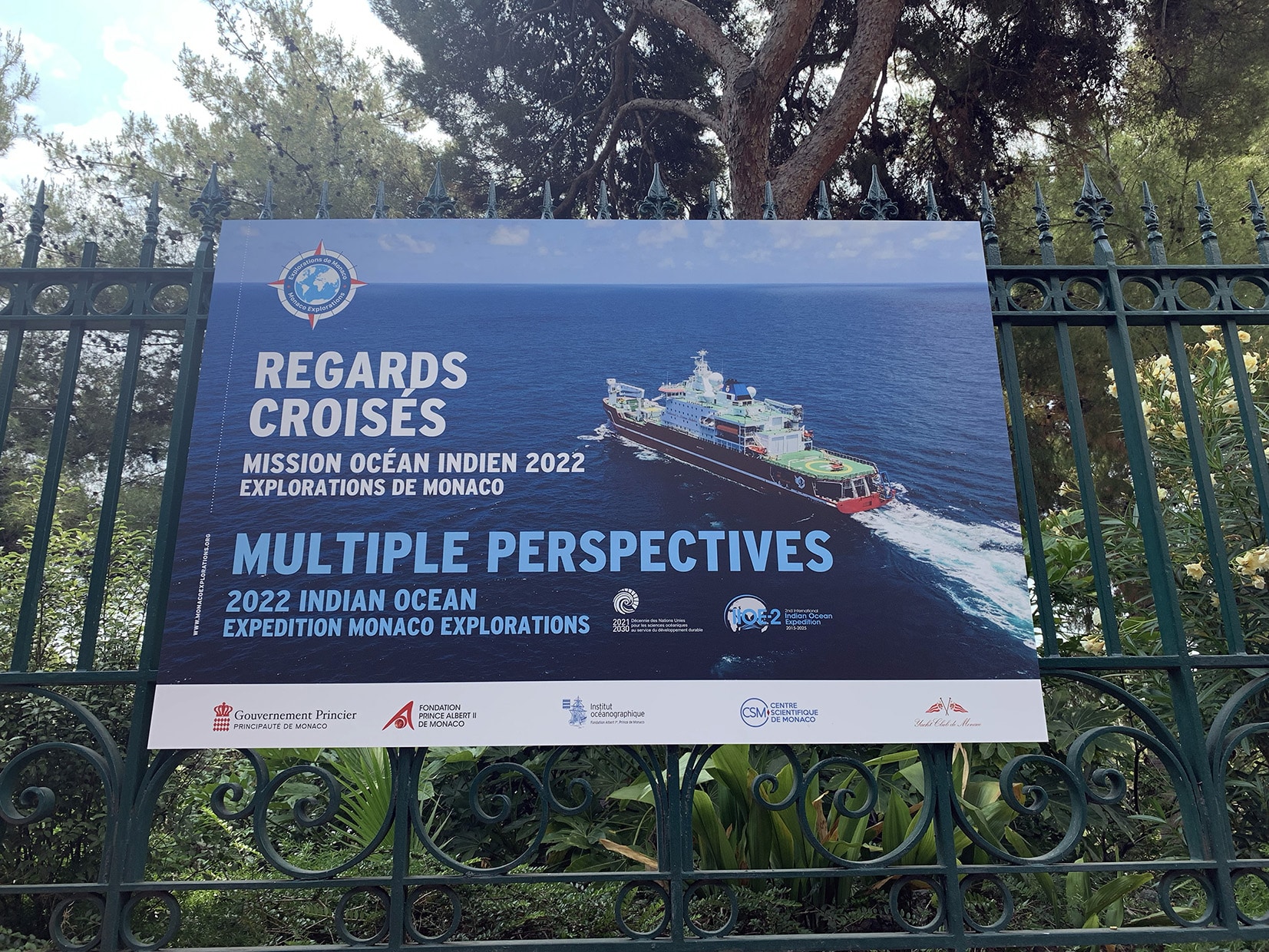 The artist Chloé Thibault shows her sketchbook to one of the crew members. Indian Ocean 2022 mission©Nicolas Mathys. Zeppelin. MonacoExplorations
The artist Rémi Leroy sketches a scene on board. Indian Ocean Expedition 2022©Nicolas Mathys.Zeppelin. MonacoExplorations
Reporter and director Sylvain Peroumal filming the launching of a BGC Argo float. Indian Ocean Expedition©Didier Théron. MonacoExplorations
The reporter photographer Nicolas Mathys of the Zeppelin agency in action. Indian Ocean Expedition©Didier Théron. MonacoExplorations
Director Harald Pokieser, from the German production company Autentic, in conversation with his cameraman Sven Bender on board the S.A. Agulhas II. Indian Ocean Expedition 2022©Didier Théron. MonacoExplorations
Strong moments, atmospheres, places... The artists' view on the Indian Ocean 2022 expedition.
Strong moments, places, atmospheres... The look of the artists
The exhibition evokes some of the high points, places and atmospheres that characterised the expedition: the human adventure shared by all the participants; the ship, a key element and character in this story; the science carried out at full speed, day and night; the discovery of exceptional natural sites, real invitations to travel, to imagine, but also to reflect on a world faced with very real environmental challenges… The podcasts associated with the panels and accessible via QR codes also allow visitors to immerse themselves in the daily life of the mission.