Back to Gombessa V, Salon de la Plongée and Obs 2049 conference
Supported by Monaco Explorations and the Prince Albert II of Monaco Foundation, Laurent Ballesta and his team took up, last July, the unprecedented challenge of exploring the seabed between 60 and 150 m deep from Marseilles to Monaco for 28 days continuously. At the beginning of 2020, the Gombessa team will present this expedition in Paris during two major events on the theme of the Oceans. On this occasion, we are publishing a very beautiful photography taken at a depth of about 70 meters just in front of Monaco. It shows a reef in front of the Port Hercule where gorgonians shine.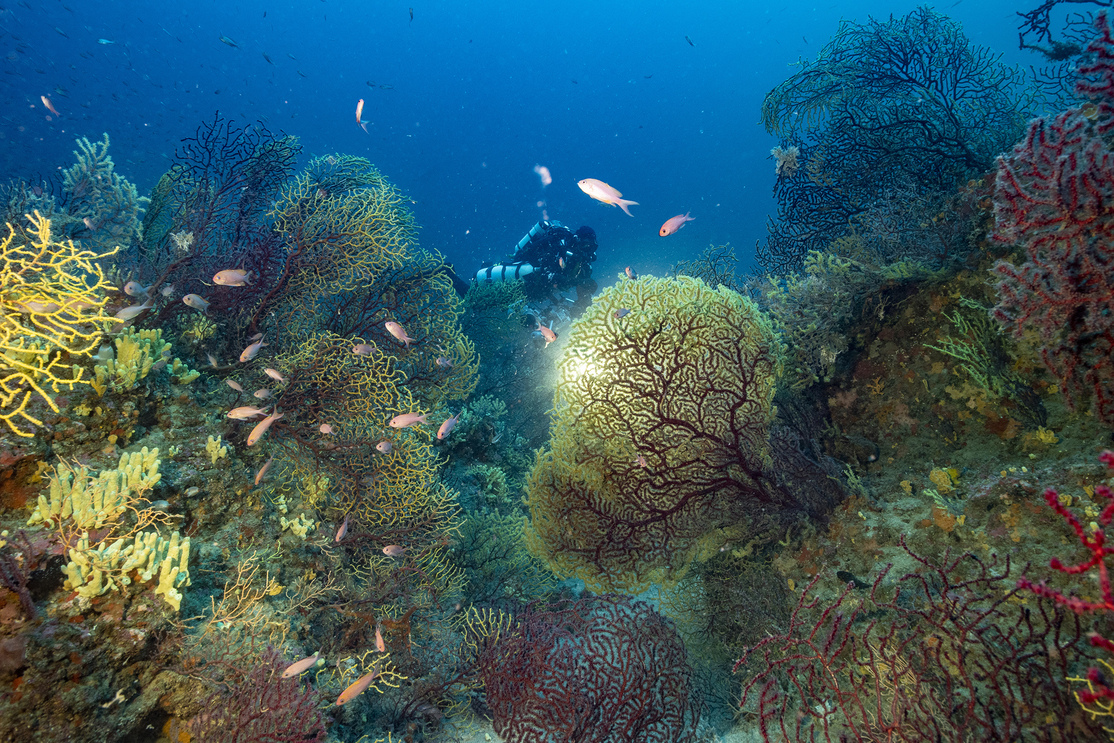 To meet Laurent Ballesta, go to :
From 10 to 13 January at the 22nd International Underwater Diving Exhibition – Paris Expo, Porte de Versailles. Every day there will be new conferences/projections of the last Gombessa V expedition.
On 14th January, at the conference "2049: the Ocean, a treasure to be preserved" co-organised by the weekly magazine L'Obs and the Oceanographic Institute – Albert I Prince of Monaco Foundation. The evening will take place at the Maison des Océans in the 5th arrondissement of Paris from 6.30 pm. On the programme: "What primordial and all too often overlooked role does the ocean play? What can be done to preserve it? How will we experience the ecological transition thanks to the products, materials and energy of the sea? ». To register click here.
Gorgonians are fixed invertebrate animals belonging to the group of Cnidarians such as corals. They are organisms made up of polyps, with eight tentacles, which live in colonies. Their general shape evokes a fan and they have bright colours (red, yellow, purple, white) constituting magnificent underwater landscapes.
Often attached to rocks, some species can also be found on sandy-muddy bottoms.. Gorgonians are often shelters for various species, such as seahorses, and contribute to the high biodiversity of the Mediterranean coralligenous community.
In the Mediterranean, the following species can be found :
the white sea fan (Eunicella singularis),
the yellow sea fan (Eunicella cavolini),
the purple sea fan (Paramuricea clavata),
the pink sea fan (Eunicella verrucosa)
the famous red coral (Corallium rubrum).