25 June to 8 July 2018. 13 to 28 October 2018
Atlantic – Caribbean Sea Mission
Megafauna Project: new milestones in Colombia
From 25 June to 8 July 2018 on Providencia Island, then from 13 to 28 October 2018 in Santa Marta, the Colombian teams from INVEMAR (coastal and marine research institute) and the European ones from the Megafauna Project, supported by Monaco Explorations, made a return trip to Colombia, following the mission undertaken on Malpelo in March-April 2018. This time round, investigations were carried out on the Caribbean side.
The purpose of this mission was to enhance the fish species reference database which scientists are developing on a worldwide scale.
To this end, three techniques were rolled out in the two areas studied:
Fish species sampling per catch,
Video recordings to assess the biodiversity present,
Seawater samples taken at various depths and filtered for environmental DNA analysis (eDNA).
These two missions, just like the one on Malpelo in March 2018, were part of the overall international cooperation framework between Colombia and the Principality of Monaco focusing on major environmental issues.
Régis Hocdé: overview interview
Régis Hocdé, along with his Colombian counterpart, Andréa Polanco, were the scientific advisors for the Santa Marta mission. Régis explains in this interview the ins and outs of the missions organized in Colombia; the new environmental DNA technology and the other techniques related to it used during the Santa Marta and Providencia missions for mapping biodiversity: seawater filtration, underwater cameras, species sampling and catches. The overall purpose and aims of the project are also addressed.
Santa Marta: studying an uncharted region
The marine area studied, adjacent to the land area of the Santa Marta Sierra Nevada National Nature Park, has no specific status to date and remains unprotected. Until now, it was totally uncharted by Colombian and international scientists as regards bathymetry, marine ecosystem distribution and biodiversity. Its ecological interest could justify grounds for extending the protection which the land park enjoys to the maritime area. The results of the research performed will provide elements of a response to this.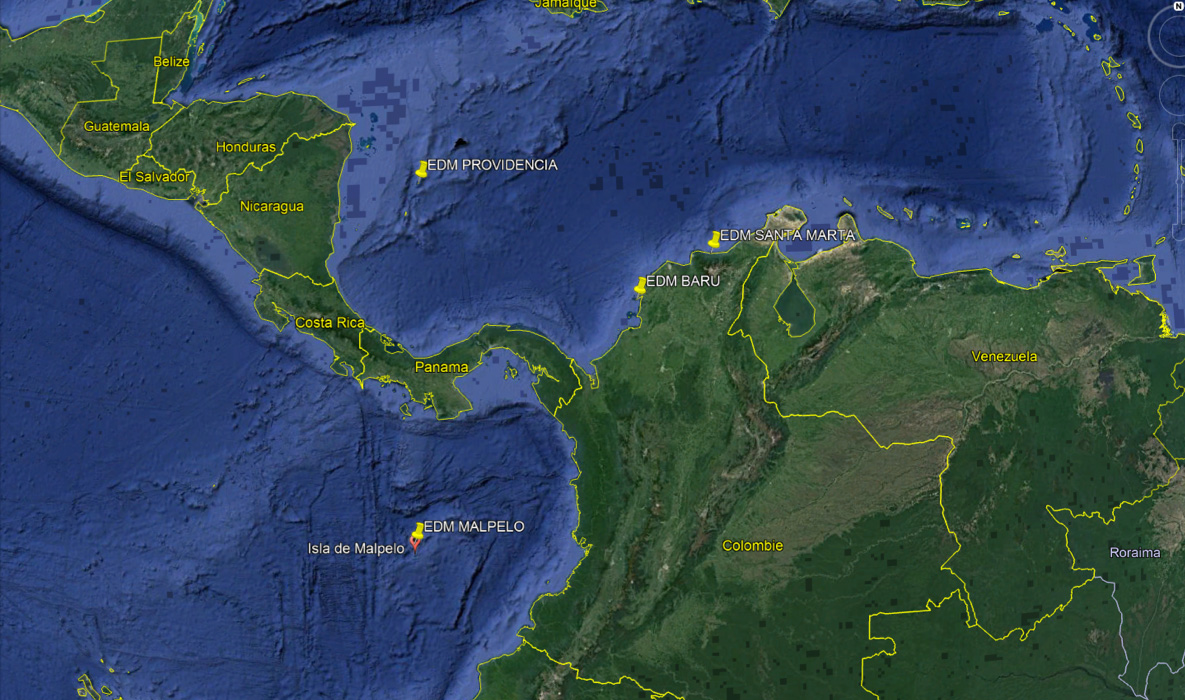 Providencia: a satisfactory assessment
Over the mission's 7 effective days on Providencia Island, 10 dives of 40 to 80 minutes each were undertaken down to depths of 5 and 10 metres. 186 fish, from 14 families and 33 different species, were caught to enhance the environmental DNA reference database. Each fish was photographed, measured under standardized conditions, a fin sample was taken for DNA analysis and sequencing performed by ETH in Zurich (Swiss Federal Institute of Technology) and the company Spygen. At the same time, 10 environmental DNA sample transects by filtering seawater were made around the island.
The political setting of the Colombian missions
During an official visit to Colombia between 19 and 22 March 2018, H.S.H. Prince Albert II of Monaco discussed the major environmental issues with Juan Manuel Santos, President of the Republic of Colombia, in particular the following points:
– the protection of the marine environment in the Pacific (Malpelo) and in the Caribbean Sea,
– allocation of new land to the Kogi Indians, indigenous people living in the Sierra Nevada,
– the protection of equatorial forests, in the face of ever-increasing exploitation pressure, following the peace agreements concluded between the government and the FARCS.
Prince Albert II's official visit in March 2018 coincided with the conclusion of an agreement by the Colombian President for the protection of over 400,000 hectares of land in the Santa Marta Sierra Nevada, where no mining activity will take place. Water sources will also be preserved, in the interests of conservation as a response to climate change, for native populations.
H.S.H. Prince Albert II and the Colombian President Juan Manuel Santos met with tribes on the Ciudad Perdida site, believed to have been founded around 800 CE © César Carrión/Presidency of the Republic of Colombia.
The Kogi Indians have successfully perpetuated their traditional lifestyle, where relationships are in harmony with nature and hold valuable lessons which should inspire Western peoples. This type of encounter is an important aspect of Monaco Explorations, as it highlights the role which communities can play in sustainable development and environmental protection.
H.S.H. Prince Albert II of Monaco, 19 March 2018.
19 March 2018: meeting on ocean acidification in Santa Marta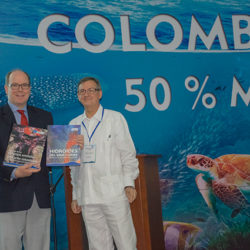 The Monaco Declaration: 10 years on
Ten years after the Monaco Declaration, which alerted the world to ocean acidification for the first time, whilst addressing the RUG meeting, H.S.H. Prince Albert II emphasized the opportunity opened in 2018 by the International Year of the Reef.
Given its sensitivity to acidification, its importance in global systems, coral should now, more than ever, be at the heart of our strategies. 
H.S.H. Prince Albert II of Monaco, 19 March 2018.
Setting up a vertical net for catching fish and for sampling © Olivier Borde. Monaco Explorations.
The filters containing eDNA fragments are packaged to be sent on to the lab for analysis © Olivier Borde. Monaco Explorations
Each diver is equipped with a small net for retrieving the fish caught © Olivier Borde. Monaco Explorations.
View of the Santa Marta Sierra Nevada National Nature Park © Olivier Borde. Monaco Explorations
Rolling out and setting up the large net on the seabed. Santa Marta, October 2018 © Olivier Borde. Monaco Explorations.
Seawater is filtered to retrieve the eDNA fragments present in the water © Olivier Borde. Monaco Explorations
Caribbean stonefish, Scorpaena plumieri © Olivier Borde. Monaco Explorations.
eDNA-Jean-Baptiste Juhel and Régis Hocdé prepare a Niskin bottle. The water sample taken at the appropriate depth will then be filtered © Olivier Borde. Monaco Explorations
Female stoplight parrotfish, Sparisoma viride © Olivier Borde. Monaco Explorations.
Coastal strip of the Santa Marta Sierra Nevada National Nature Park, Colombia © Olivier Borde. Monaco Explorations
French angelfish, Pomancathus paru © Olivier Borde. Monaco Explorations
Coral sea floor, Caribbean Sea, Santa Marta © Olivier Borde. Monaco Explorations.
Morphometric analyses: collecting samples for the eDNA bank and measuring specimens caught while diving © Olivier Borde. Monaco Explorations.
Providencia Island seen from the sea, Colombia © Monaco Explorations
Bad weather over Providencia. Jean-Baptiste Juhel. © Monaco Explorations
Providencia Island, Colombia. A message for protecting our seas. © Monaco Explorations
Colombia, a megadiversity hotspot
With its coral reefs, its mangroves, its tropical rainforests, its mountainous terrain and its corridors (Mesoamerican Biological Corridor, Eastern Tropical Pacific Marine Corridor), Colombia is one of the 17 megadiversified countries identified by the UNEP-WCMC. These countries host the majority of the living species identified in the world and are considered as the richest on the planet as regards biological diversity. The 5 other South American megadiversified countries are Brazil, Equator, Mexico, Peru and Venezuela.
Scientific body founded on, 22 December 1993. Headquarters: Santa Marta, Magdalena, Colombia.
Line Ministry: Ministry for the Environment and Sustainable Development.
Four key research areas 
Marine biodiversity and ecosystems
Developing information and knowledge on marine and coastal biological diversity, as well as on phenomena and processes which govern it, to comply with the commitments of the Convention on Biological Diversity and with national biodiversity policy.
Marine environment quality
Analysing the impact of natural phenomena and anthropogenic stressors on marine ecosystems. Studying causes, effects and possible solutions for marine pollution-related issues. Proposing actions for restoring marine and coastal ecosystems according to needs.
Marine and coastal geoscience
Studying climatic, oceanographic and geological phenomena and processes which modulate the dynamics of coasts, offshore and its ecosystems, by using state-of-the-art technological tools, to support the sustainable development, planning and protection of the marine environment of national interest.
Assessing and using marine and coastal resources
Assessing the biological, economic and social situation and potential of marine and coastal natural resources to preserve them and use them sustainably.
Santa Marta and Providencia mission members
Santa Marta mission members
Two scientific advisors
Andrea Polanco, INVEMAR, Santa Marta, Colombia,
Régis Hocdé, IRD MARBEC, Montpellier, France, MEGAFAUNA team
A 10-person team
INVEMAR, Santa Marta, Colombia
Maria Mutis, biologist, (marine turtles, marine mammals, birds)
2 boat captains.
MARBEC joint research unit (UMR), University of Montpellier France, MEGAFAUNA team
Virginie Marques (diver), Eva Maire (diver), Jean-Baptiste Juhel (eDNA), Marie-Charlotte Cheutin (sample processing)
ETH Zurich, Switzerland, MEGAFAUNA team
Manuel Spescha (diver)
Monaco Explorations
Olivier Borde (cameraman, photographer, diver).
Providencia Island mission members
Two scientific advisors
Andrea Polanco (diver), INVEMAR, Santa Marta, Colombia, researcher
Camille Pierre Albouy, Megafauna Team, Ifremer researcher, MARBEC joint research unit (UMR), mission leader, diver, France
A 4-person team
INVEMAR, Santa Marta, Colombia
Giomar Helena Borrero Perez, researcher
MARBEC, University of Montpellier France, MEGAFAUNA team
Camille, Nathalie, Marie SENN (professional diver)
Jean-Baptiste Juhel (eDNA filtering)
Santa Marta and Providencia mission partners