[vc_row][vc_column][vc_column_text]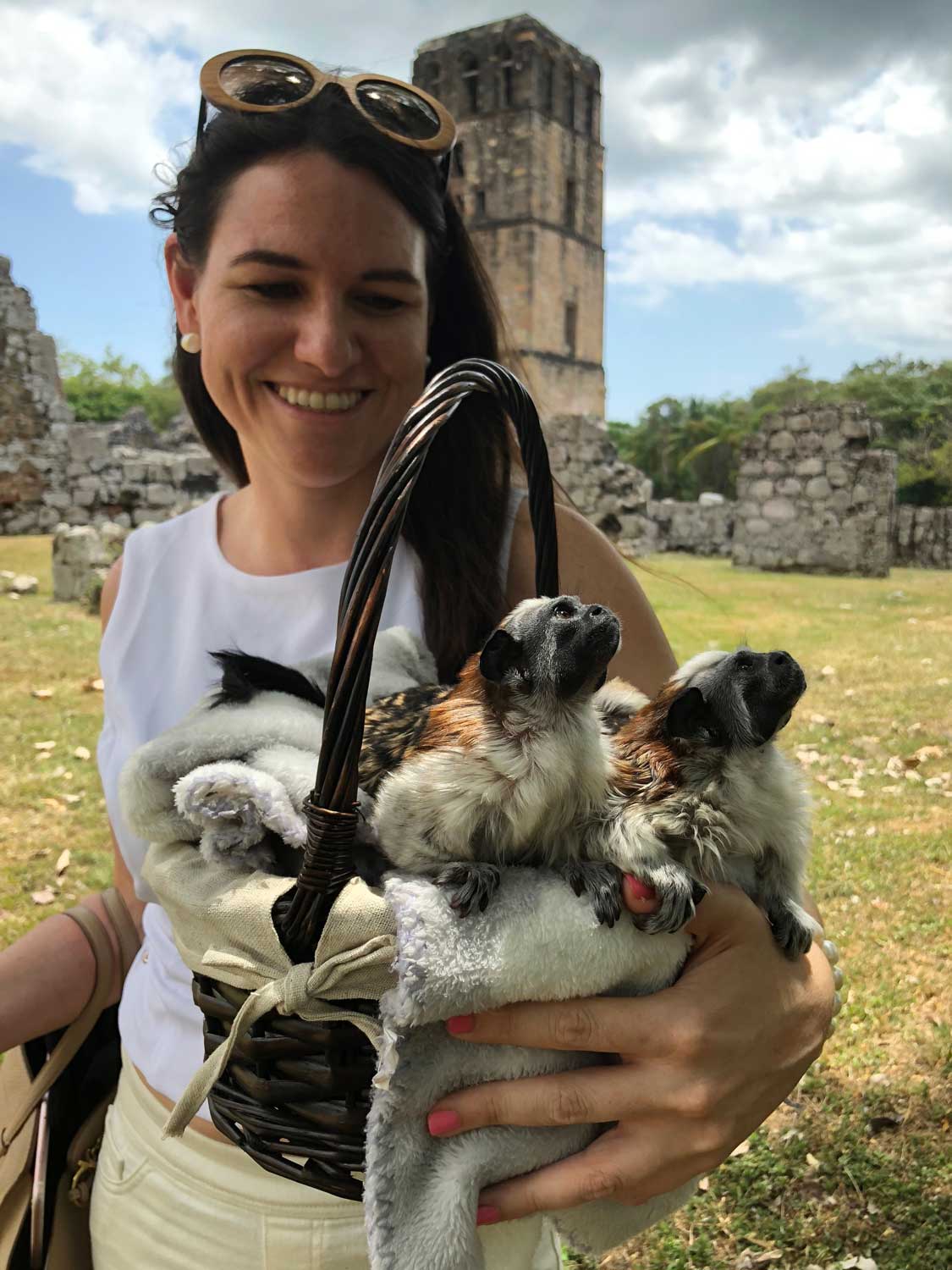 Aïa Mar is a Panamanian artist and ecological conservationist who was kind enough to spend part of her day talking with us about her work and what led her to become passionate on the topic of ecological conservation and taking us on a tour of the Panamá Viejo which are ruins remaining from the first permanent European settlement on the Pacific coast (settled in 1519). It was only fitting that the day was International Women's Day, March 8th, and that Aïa's most notable effort is that of rescuing and caring for two Geoffroy's Tamarin female monkeys; a task Aïa says requires her attention "all day every day".
Aïa grew up here in Panama City but it was her family's travels around Panama that brought her to a scuba diving course at the age of 16. Aïa tells us that at the time, scuba diving was not something people were doing much of in this area, and she remembers this first underwater experience as a life changing one. Indeed, true to those feelings, much of Aïa's life and work has centered on water.
[/vc_column_text][gem_video video_src="https://www.monacoexplorations.org/videos/EDM_AIAMAR_Panama.mp4″ image_src="27560″][vc_column_text]Aïa left Panama for the USA in her late teens to pursue a college degree and while studying she made the decision to hone in on her interest for art. This decision led Aïa to travel around the world spending a month or so in different cities studying their art scene. Aïa spent time in Los Angeles, New York, Paris, Dubai, London, and many other cities but it was when she decided to go to Hawaii that she reconnected to her passion for diving – and it was also there that she (somewhat accidentally) discovered her skill for free diving.
Because she had spent so much time getting to know the ecology of those Hawaiian waters, Aïa chose to focus on water as a theme for her artwork back in Panama. She returned home to create art inspired by her experiences, but was also determined to continue free diving because she had seen the advantage of being able to experience time underwater without being attached to a dive tank, and the ways in which that freedom allowed her to be closer to species that she loved. Aïa went on to win the Free diving National Records for Panama (again somewhat accidentally) and has achieved 63 meters in depth and 2:41 seconds underwater.
Today, Aïa is a well-known artist who has shared her work at numerous gallery exhibits and installations. Her art is not centered solely on water, but the Earth's elements and through this work she hopes to inspire others to consider the importance of conservation.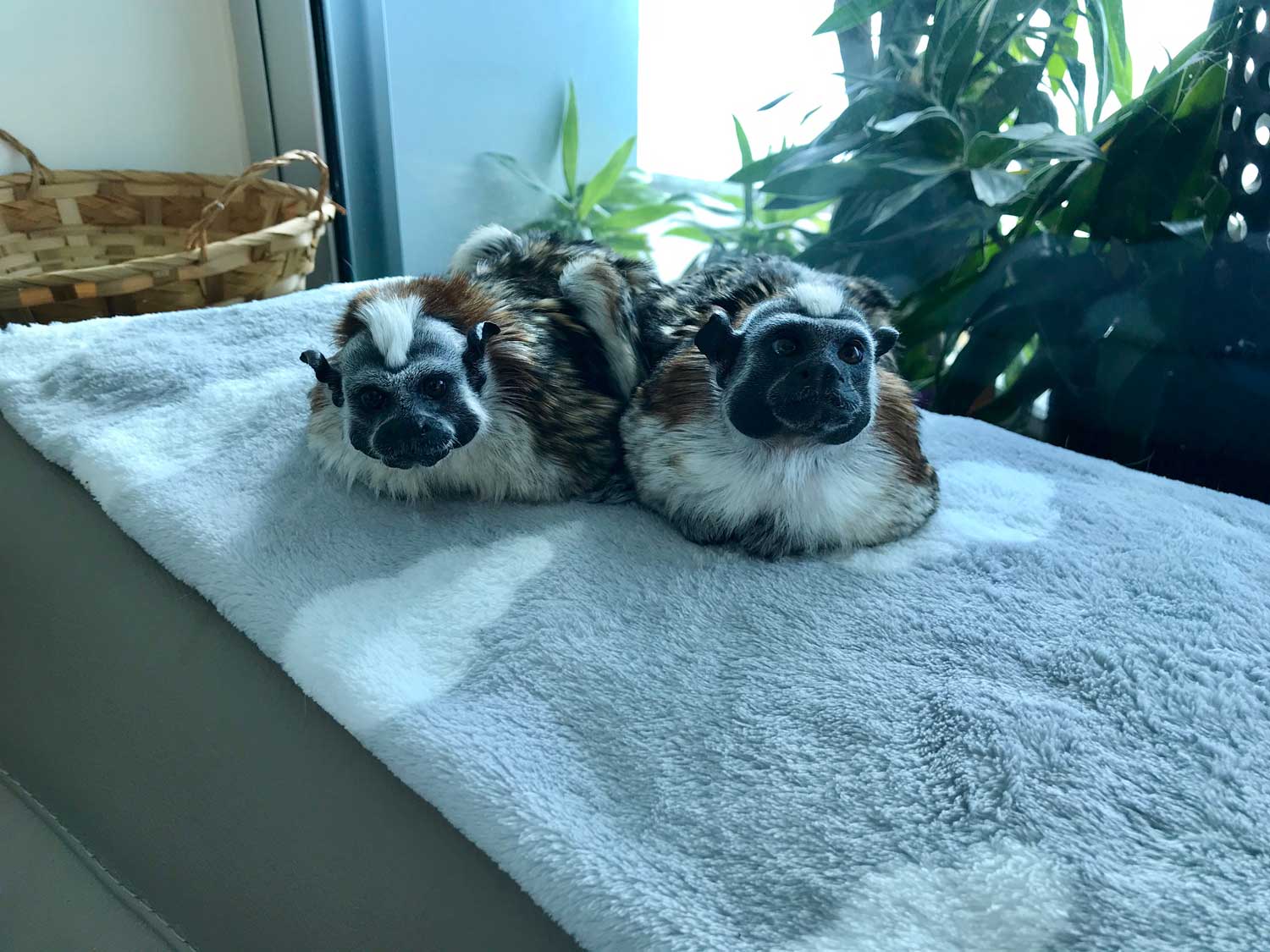 Roughly 10 years ago Aïa was working on a vessel off the coast of the Darién Provence in Panama and it was here that she learned of a small monkey named Mako who had been living in extremely poor conditions in captivity for all of her life. Aïa understood immediately that she would help Mako, although she did not imagine that doing so would lead her to adopt this monkey and care for her for the rest of her life. Mako's species is endemic to Costa Rica, Colombia and Panama and unfortunately they are endangered due to population growth (deforestation) and being hunted for sale as pets. Aïa quickly learned that nursing Mako to health and turning her loose in the wild, or finding a rescue center to keep and care for her was not possible. She had to adjust to the idea that if she wanted Mako to survive, she would have to provide care for her at home. Doing so led Aïa to become a reference for people throughout the region who had come across these monkeys when they needed rescued or were being rescued but had fallen ill. It also led her to adopt Sky, another young female of the same species. Aïa's life changed in a huge way after adopting the two monkeys, and much of her energy over the past 10 years has gone toward ensuring that Mako and Sky have a life that allows them to be safe, while still being as free as possible in the environment she is able to provide. Aïa never puts the monkeys in a cage of any kind and she spends hours each week taking them to safe places where they can "monkey around" in the wild, but return to their home with Aïa. While there are more rescue centers in the region now, and more options for help with this species as they are found in poor captivity conditions, Aïa has become known as a person who has dedicated herself to the conservation of the species and she often helps others find a rescue center or medical care.
Aïa explained to us that, looking back, she can see how the stars somewhat aligned for her to be the right person to not only take in, but advocate for the Geoffrey's Tamarin species. Because she is an artist, she is able to spend much of her time at home with Mako and Sky, and has the time to give them the attention they need if they are to live away from their natural habitat. "I don't leave home too often except to take Mako and Sky out into nature. At home I have Mako and Sky and my art work and I don't really need much else".
Meeting with Aïa, Mako and Sky was a great adventure and we were happy to learn about her work and passions. You can find out more about Aïa on her website and follow her beautiful artwork and adventures on Instagram @aia.mar.[/vc_column_text][/vc_column][/vc_row][vc_row][vc_column][/vc_column][/vc_row]