This post is continued from Part One
During Prince Albert's visit in Cabo Verde we christened the new GEOMAR Ocean Science Center Mindelo, Skyped with 300 schoolchildren in Monaco, visited the island of Branco to pick up Raquel and Aurélien and hear about their work looking for evidence of the giant skink, learned about the GEOMAR wave glider that is aboard the Yersin, and visited a sea turtle hatchery on the beaches of Boa Vista.
Back to Branco
In a recent blog post, we explained that scientists Raquel Vasconcelos and Aurélien Miralles were camping on the island of Branco to collect samples and search for evidence of the presumed extinct giant skink. Today their work is complete and HSH Prince Albert II makes the trip to Branco to join them for a few hours and learn about their time there, and find out first hand what, if anything, they have discovered about the giant skink.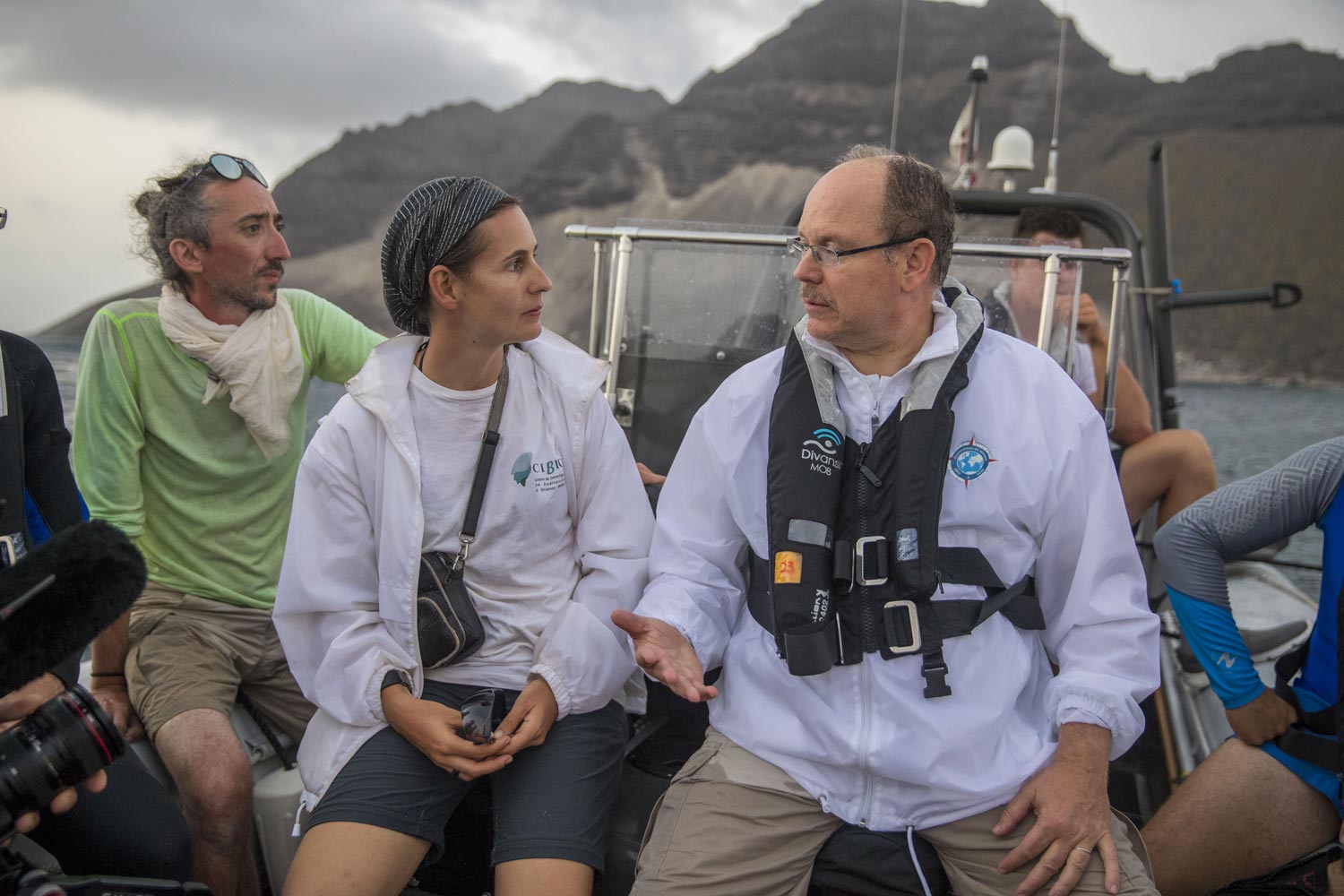 GEOMAR Wave Glider
Dr. Björn Fiedler of GEOMAR talked with HSH Prince Albert II to explain the purpose and capabilities of the wave glider and bottom lander, both of which were deployed from the Yersin.
"Jointly with Monaco Explorations we will launch state-of-the-art measuring platforms such as lander and wave glider to collect physical, chemical and biological data which are important for future marine protected areas" said Dr. Björn Fiedler from GEOMAR.
Sea Turtle Hatchery
Sea turtles have been on this planet since the dinosaur ages and are disappearing all around the world, becoming an endangered species in just the last 200 years. Sea turtles play a vital role in marine ecosystems. You can read more about Why Healthy Oceans Need Sea Turtles here.
The Turtle Foundation, Project Cabo Verde invited Monaco Explorations to Porto Ferreira beach on Boa Vista Island so that we could learn about their work and gain a better understanding of the importance of sea turtle preservation in the larger scope of ocean conservation. Prince Albert II visited the hatchery and talked with the scientists who are stationed there and he gave children's books, depicting the threats that sea turtles face, to the kids who were participating in a day camp with the Turtle Foundation.
[vc_row][vc_column][gem_video video_src="https://www.monacoexplorations.org/videos/Hatcherywelcome.m4v" image_src="27292″][vc_column_text]
During Monaco Explorations visit to the hatchery a few days before HSH Prince Albert arrived, we were very lucky to have been invited to witness a turtle laying her eggs at night. (These photos are courtesy of Head of Mission, Pierre Gilles)
[/vc_column_text][/vc_column][vc_column][/vc_column][/vc_row]